> Marguerite Humeau > Jeudi 15 mars > 14h00 – 15h30 > Tate Britain
> en français
> Marguerite Humeau > Thursday March 22nd > 2pm – 3:30pm > Tate Britain
> in English
Millbank, London SW1P 4RG – Tube station PIMLICO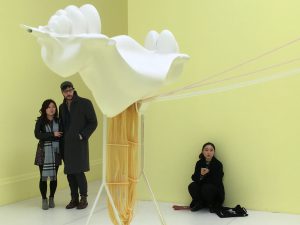 MARGUERITE HUMEAU  is a young French artist I discovered at Tate Britain. 
Marguerite is very talented ! Her installation, called ECHOES, is astonishing and explores fundamental questions.
Nobody can remain indifferent by seeing ECHOES and listening to it. Everyone will start to look for an interpretation of this beautiful and mysterious artwork.
I was so seized that I tried to meet the artist. And I did it ! I talked for half an hour with Marguerite. About her career and her creations.  Indeed a very interesting artist !
My way to introduce artists and their artworks to people is not the usual. Interactivity between participants is important. Come and see !
If you want to join, book by clicking HERE. This event is free of charge. In French (15.3) and English (March 22nd). 
Hope to meet you soon !
see art, be an artist, have a nice day !
Christine
_________________________________________________________