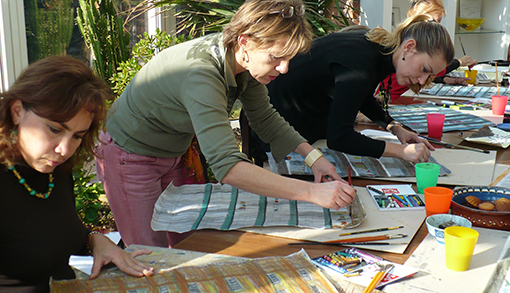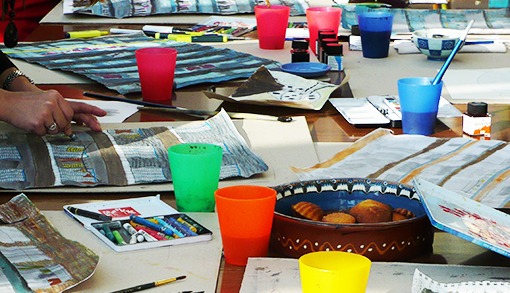 Look for new artistic approaches !
Class #1 | 360 ° artistic research and practice
Course code | InsertYou 1921 (evening) 1922 (afternoon)
Evening class |  Wednesday  6:30-8:30pm  (Up to 7 people)

Afternoon class |  Thursdays 2-4pm  (Up to 7 people)
Experience level |  All levels
Fee |  £12 for a single class (1x2 hours) > See also price policy below
Subscriptions |  £50 for 5 classes (5x2 hours) | £80 for 10 classes (10x2 hours)  
Art supplies | All included
A test class FOR FREE
Discover a truly new and exciting method
Subject to availability
Short description
> We try out different artistic approaches and techniques
> We work in our studio and outside
> We discover and analyse works done by artists
> We realise a common project
Learn more
> InsertYou is a teaching method designed to provoke various types of artistic encounters in order to discover, expand and cultivate the creativity present in each of us.
> Discoveries may occur in our art studio, experimenting with various artistic techniques, working on unusual topics or following unconventional approaches.
> They may also take place in our outdoor environment, by meeting artists and creators at work, or by strolling through urban sites that are generally unknown and inspiring.
> Dynamics created within the group are fundamental. Each class is framed on and directed to a path of its own, and may end up with a common project intended to be shared publicly.
Conduct of the course
> Meetings are weekly.
> A class lasts 2 hours and includes a 15-minute break.
> The group focus requires regular attendance.
> We work in our studio or outside, depending on the programme and the weather forecast.
> Information on each meeting is sent to all participants no later than 24 hours in advance. It is also displayed on our blog.
Price policy
> An InsertYou session includes 10 weekly meetings of 2 hours.
> Registration and fee are to be made at the end of the "test class".
> No refund is made for non-attended classes.
> A paid course canceled by participant no less than 48 hours in advance gives a credit of £8 to be claimed for another course. 
Expérimentez de nouvelles approches artistiques !
Cours #1 | Recherches et pratiques artistiques sur 360°
Code des cours  |  InsertYou 1921 (soir) et 1922 (ap-m)
Classe du soir  |  Les mercredis 18h30-20h30 (max 7 élèves)
Classe après-midi  |  Les jeudis 14h-16h (max 7 élèves)
Expérience requise  |  Tous niveaux
Prix  |  12£ pour un cours unique   > Voir politique des prix ((plus bas).
Abonnements | 50£ pour 5 cours (5x2h) - 80£ pour 10 cours (10x2h)
Matériel | Tout compris
Testez la méthode GRATUITEMENT
Découvrez une méthode réellement nouvelle et enthousiasmante
Sous réserve de place disponible
Bref descriptif 
> Nous expérimentons différentes approches et techniques artistiques
> Nous travaillons en atelier et à l'extérieur
> Nous découvrons et analysons des travaux d'artistes
> Nous réalisons un projet commun
En savoir davantage sur la méthode
> InsertYou est une méthode destinée à provoquer divers types de rencontres artistiques afin de découvrir, d'élargir et de cultiver la créativité présente en chacun-e de nous.
> Les découvertes peuvent avoir lieu en atelier, en expérimentant des techniques d'expression artistiques variées, et en travaillant sur des sujets inhabituels ou abordés de manière non conventionnelle.
> Elles peuvent également s'opérer dans notre environnement extérieur, en partant à la rencontre d'artistes et créateurs au travail, ou en parcourant des lieux généralement inconnus et inspirants.
> La dynamique qui se crée dans le groupe est fondamentale. Chaque classe est encadrée et dirigée sur un chemin qui lui est propre et peut aboutir à un projet de petite ou large envergure destiné à un public.
Organisation des cours
> Les rendez-vous sont hebdomadaires
> Un cours dure 2h et comprend 15 minutes de pause
> Une attention particulière est portée sur le groupe au travail requiert une présence régulière
> Nous travaillons en atelier ou à l'extérieur, selon le programme et les conditions météorologiques
> Les informations pour chaque rendez-vous figurent sur le site et sont envoyées par mail aux participant-e-s 24h à l'avance
Politique des prix
> Une session de cours comprend 10 rencontres hebdomadaires de 2 heures.
> L'inscription et le payement se font à la fin d'une "classe test".
> Les absences ne sont pas remboursées.
> Une absence annoncée 48 heures à l'avance est un crédit de 8 £ à faire valoir pour un autre cours.