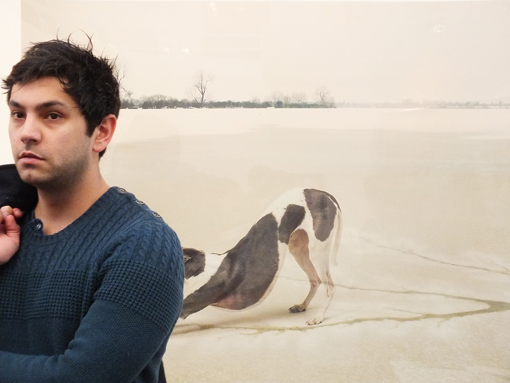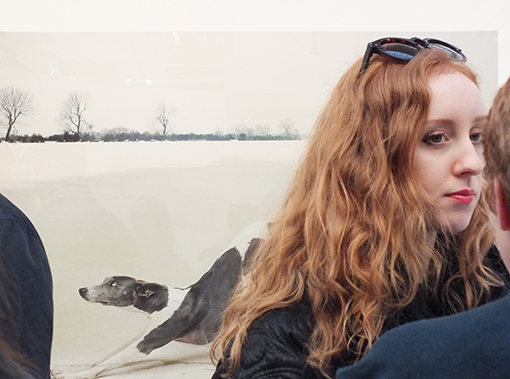 Look at art ! Look at artists ! 
Class #2 | Artistic discoveries

Class code |  193
Dates  |  Vary  > Ask for the programme (bouton below)
Hours | Vary  > Ask for the programme (bouton below)
Expérience level |  All
Price |  5£ + Entrance fees  > See details below
Be informed about our next visits
On request,
you'll always be informed 
of our next
scheduled visit
Short description
> London is full of places where to discover art exhibitions or artists at work.
> Our preferred destinations are places less known by the large public.
> For large exhibitions, our way is to concentrate our attention on a few selected artworks.

Learn more on our visits
> Looking at artworks made by others, whether they are well or less known, is an important source of creativity.
> Our intention is to introduce various artists to the audience, through their artworks, or visiting their art studio. Our goal is to provoke discussion and exchange, and to bring everyone beyond his or her knowledge and usual artistic practice.
How are the visits organised ?
> Each visit is announced on our website.
> Each visit is announced by email to the people on our mailing list (see blue box above).
> The number of participants is defined for each visit.
> First come first served rule. 
> If a visit is sold out, the unlucky ones get an information by email and stay on a waiting list, in case a place becomes available. 
> The meeting point is sent by email to the registrants at least 24 hours in advance.
Price policy
> Price for the tour is 5£ + entrance fees of the place visited. Don't forget your Member's Cards or Art Pass if you have some.
Découvrez des artistes et leur art !

Cours #2 | Découvertes artistiques, visites d'expo

Code du cours |  193
Dates |  Variable  > Demandez le programme (bouton plus bas)
Heures |  Variable  > Demandez le programme (bouton plus bas)
Expérience requise |  Tous niveaux
Prix |  5£ + prix d'entrée de l'endroit visité  (voir détails plus bas)
Soyez au courant des visites planifiées
En vous inscrivant
vous serez toujours informé(e)
de la prochaine
visite planifiée
Bref descriptif
> Londres regorge de lieux où découvrir d'intéressantes expositions d'art ou des artistes au travail.

> Nos destinations favorites sont des lieux moins connus du grand public. 
> Si nous proposons la visite de grandes expositions, nous concentrons notre attention sur quelques oeuvres choisies.

En savoir davantage sur nos visites
> Se confronter au travail des autres, qu'ils soient très connus ou non, est une importante source de créativité.
> Notre projet est d'emmener les participants et participantes à la découverte d'artistes divers, à travers leurs oeuvres, ou en leur rendant visite dans leur environnement de travail. Notre objectif est d'entamer, par la discussion et l'échange, une réflexion qui mène chacun et chacune au-delà de ses connaissances et de ses pratiques artistiques habituelles. 
Organisation des visites
> Chaque visite est annoncée sur notre site.
> Chaque visite est annoncée par mail aux personnes inscrites sur notre liste d'envoi (voir encadré bleu ci-dessus). 
> Le nombre maximum de participant-e-s est défini et annoncé pour chaque visite. 
> Les demandes de participation sont acceptées dans l'ordre de réception. 
> Lorsqu'une visite est complète nous le signalons par mail aux personnes qui ne peuvent plus être admises. Elles restent toutefois en liste d'attente, au cas où une place devait se libérer. 
> Le lieu de RDV est transmis par mail au moins 24h à l'avance aux personnes inscrites. 
Politique des prix
 > La visite coûte 5£ + le prix d'entrée du lieu visité. N'oubliez pas vos diverses cartes (Member's Card, Art Pass) vous donnant droit à des réductions.