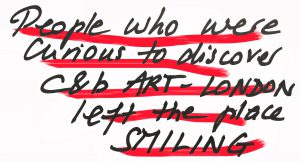 About our Open House on Thursday March 8th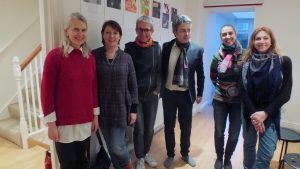 People visiting c&b ART – London last Thursday discovered a really great art studio, well organised, cosy, and spreading a good atmosphere. Julien : "On se sent à l'aise ici, ça donne envie de créer des choses." (One feels at ease here, it makes you want to create things.)
They were surprised that I encouraged everybody to immediately test my way to teach art. Both groups accepted nicely to follow my guidance and advise and realised in around 10 minutes some surprising exercices. They had lots of fun and got a quick introduction to my great trust in all students: those who didn't know that each of us has a personal graphic expression (an interesting starting point to develop creativity) went home convinced to have it.
The key to start learning is to believe in one's own potential!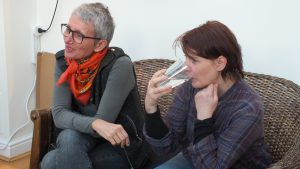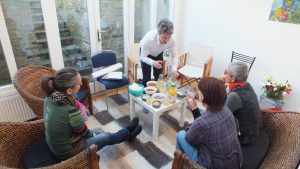 Elina, a professional figurative painter who I met the previous Saturday at the French Institute was also willing to test my method of introducing students of all levels to the art world. She said : "As a figurative painter I'm enjoying this way to start an art class. Doing things differently to what I usually do in my own studio is inspiring.
Mélanie's comment summarised the good time we had together. : "C'était super !"